Confidence Through Stewardship
INARU offers premium cacao products from the Dominican Republic
through a vertically- integrated model that incorporates high value in the following steps of production: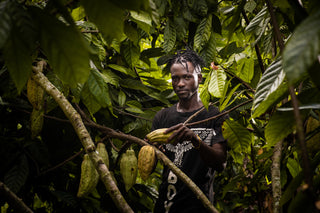 Profit Sharing
Sharing profits from both the refinery and branded consumer products.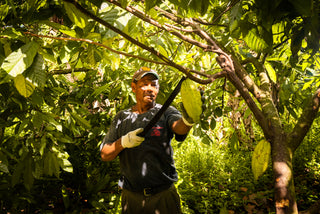 Stable Monthly Pay
Economic stability through monthly payments instead of once a year lump sums. Recognition and amplification of work through Inaru's world-class brand.
MODEL
---
BARRIERS TO BALANCE
Antiquated, Exploitative Practices
---
Broken, unstable and inequitable supply chains harm the environment, unfairly distribute compensation and create inconsistent quality goods.
INARU'S ABUNDANT SOLUTIONS
The Positive Spiral
---
A successful business doesn't have winners and losers, as choices shouldn't be made among great products, competitive prices, happy suppliers or ethical production. Our model, a cascading spiral, has positive ancillary effects; a force for good that gains momentum the more people it touches.
---
PEOPLE
---
BARRIERS TO BALANCE
Choking the Roots- Farmers benefit the least
---
Producers are the last to reap the benefits of all their work; the majority of pay is lost to intermediaries.
INARU'S ABUNDANT SOLUTIONS
Farmer/Producer-First Approach
---
INARU's producers-first approach enriches producers without middleman and markups, through direct payments to farmers via exclusive contracts. Farmers enjoy a profit share from products made from their beans, directly aligning INARU's success with their own.
PLANET
---
BARRIERS TO BALANCE
Environmentally Unkind Practices
---
Fundamental and historical disregard for the toxic side effects of unsustainable practices.
INARU'S ABUNDANT SOLUTIONS
Investing in and Cultivating Sustainable Practices
---
INARU provides producers in its community cost-free access to tools, resources and training for regenerative production. By processing onshore- the carbon footprint of our products is oceans lighter. Now that is sweet.
---
PRODUCT
---
BARRIERS TO BALANCE
Poor Bean Quality/Quantity
---
Low productivity, disorganized cooperatives, and no incentives to improve quality of fermentation yield low and inconsistent bean quality.
INARU'S ABUNDANT SOLUTIONS
Fine, Premium Products
---
INARU sources & supplies only premium Dominican cacao beans by building end-to-end production capabilities from farming, fermentation, and refinement, to product development and all logistics therein. This model allows Inaru to create a premium product that rewards everyone involved in creating it.
QUALITY AND STEWARDSHIP
INARU supplies premium, rich Dominican cocoa products, as well as our commitment to ethical and environmental stewardship.

Equity and transparency is at every step as we build out our production capabilities. We control the end to end, from farming, fermentation, refinement, product development, and all the logistics within.
ETHICAL LUXURY
Buying our chocolate enables consumer to invest in an ecosystem designed to raise and enrich everyone in it.

Our product was created with passion and equality at its core.

When consumers buy INARU products, they vote with money on what kind of world they want to support.
VERTICAL VALUE
INARU's ecosystem unlocks ownership and the value of the production cycle, while simultaneously elevating and rewarding producers.

We invest in a luxury product and a better future for the entire ecosystem.

Our vertically integrated model enables INARU stakeholders to capture 30 times the value of the raw crop.