Founders
Led by Dominican-American founders that synthesize startup experience and heritage.
INARU was created with the goal of bringing prosperity to the Dominican countryside. We develop sustainable and regenerative farming practices to protect the environment.
INARU is woman-founded and run, with our executives having past experience in Biopharma, venture capital and the e-textile industry.
INARU sources and supplies Organic Hispaniola cacao from a diverse producer base.
INARU's end to end production capabilities ensure quality throughout the process. Inaru is now the only exporter who offers direct profit sharing of finished goods back to their producers.
Janett Liriano
CEO and Co- Founder of INARU, Janett Liriano is an entrepreneur and business leader with a passion for synergy, art, design, nature, and technology. Her works center on developing and transforming business into forces of good. During her time as CEO of LOOMIA, she drove the technology development and is named in 6 patents for textile circuitry.
She secured partnerships with aerospace manufacturers and military partners, and designed a decentralized data marketplace for apparel products on the blockchain. As the first employee and chief of staff at Cambrian Biopharma, a New York City-based drug development company, Janett grew the team from one to over 20, and set the organizational foundation for a $600M IPO of a portfolio company alongside a $60M fundraise for the business. She is a Founding Member of United Nations Decade of Women Initiative, a 2019 "Forbes 30 under 30 for Manufacturing and Industry" and the only woman of color to raise over $1M in venture funding twice. Her experience, values, and beliefs have informed and profoundly influenced her work with INARU and her respect for the people and beauty of the Dominican Republic — and the natural beauty throughout the world.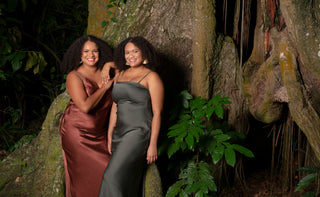 "The power to determine your own path
is something that all humans should have the right to, and that includes a woman's power to choose what type of life she wants for herself."
-Erika liriano
Erika Liriano
Chief Innovation Officer and Co- Founder of INARU, Erika Liriano is a systems thinker and operational leader focused on empathetic efficiencies. Through her leadership, INARU established key relationships with farmer groups in the Dominican Republic. In her various roles as Chief of Staff and Project Manager at startups and venture funds, she oversaw the implementation of strategic initiatives, tracked KPI's, and organized investor and partner relations. Her coordination of product teams, vendors, and manufacturers ensured timely, high quality development and delivery of six figure contracts in her time at LOOMIA. Erika leverages her expertise in systems thinking and systems management, to establish key relationships with diverse executives, stakeholders and effectively oversee specialized product teams to competitively position INARU.
Connect with us as we create a safer, more abundant, and

co

lor

ful

world